CCC SECURITY, CALL       1-352-748-5555
Message from Mike Roberts 3/24/2020
I hope all of you are doing well.
Needless to say, a good portion of my time has been spent dealing with COVID-19 issues as it relates to our facilities. At the time of this writing (3/24/20), the following changes have been implemented in our common areas at the direction of your elected representatives, the RO Board of Directors or Government officials.
1) Restaurant is closed to the public. Takeout and curbside delivery is available by calling 352-748-0050 after 11 a.m.
2) All activities in the Magnolia Room have been cancelled.
3) Golf course remains open with many precautions being taken in the pro shop and on the course.
4) Administrative office is closed to the public. The best way to communicate with staff is through e-mail: The next choice is to call the office at 352-748-9221.
Pam: reception@continentalcountryclub.com
Linda: ar@continentalcountryclub.com
Mike: gm@continentalcountryclub.com
Don for facility issues: dvanarsdale@continentalcountryclub.com
5) Library is closed. Activities Room is closed. Our private gym is open to Residents only (no guests) with capacity limit as posted.
6) Arts & Crafts buildings are closed.
7) Woodshop is open with capacity limit. All meetings suspended.
8) Pool is open 9 am-6 pm to Residents only (No Guests). Many restrictions are posted and will be enforced by our on-site pool monitor. Please follow the safeguards in place so we can keep this amenity open as long as possible.
9) Billiards Room is closed
By the time you receive this publication, additional changes will most likely have been made. If you have not already signed up for e-blasts so you can be immediately notified of important events and updates, please go to the CCC website today and sign up to receive these alerts.
I want to assure you that additional CCC staff are in place to thoroughly sanitize all of the common areas BUT that alone will not protect you. Our 55+ population is at great risk as you already know. It is up to you to take precautions to protect yourselves during this pandemic.
Best of health,
Mike Roberts
———————————————————————————————————-
Pool  rules during the Coronavirus Crisis
Effective Tuesday,  3/24 the Pool will be open 9 am-6 pm.
Seating has been spread out a great deal and many chairs removed.
Chairs can not be re-arranged. The pool monitor will sign in / out any Residents (no guests allowed).
Once every remaining chair has been assigned,  no one else will be allowed to enter until someone leaves and only after the pool attendant has sanitized the chair.
Only 4 persons allowed in the hot tub at a time.
Maximum time inside the fenced pool area is 2 hours so others can use the pool.
Must wear your wristbands or you won't be allowed in.
First come/first served.
I hope everyone will follow the rules so the pool can remain open.
——————————————————————————————————————————————-
---
Florida's COVID-19 Data and Surveillance Dashboard
Florida Department of Health, Division of
Disease Control and Health Protection
———————————————————————————————————————————————————————————————————
Our safety is paramount. The best way to be prepared is to BE AWARE. Sumter County has recently introduce a mass notification system for emergencies.
Our residents should subscribe to it. You will be notified of emergencies by text, email telephone, select whatever means.
CLICK ON THE IMAGE TO THE LEFT TO BE DIRECTED TO THE SUMTER COUNTY SITE FOR INFORMATION AS TO THE PROGRAM AND REGISTRATION
---
CLICK ON THE BELOW IMAGE TO BE DIRECTED TO THE SUMTER COUNTY EMERGENCY DISPATCHES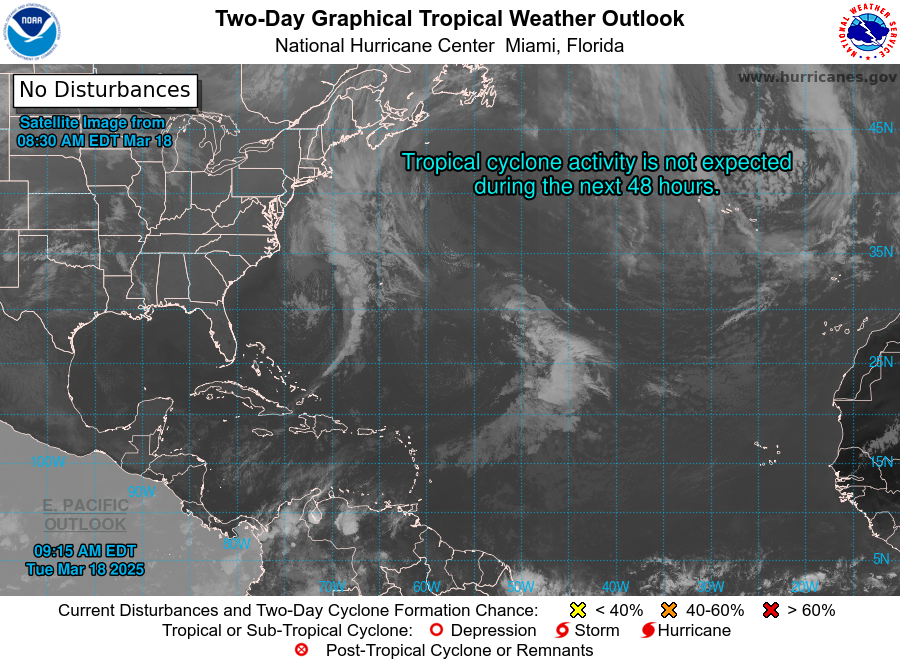 Official 5-day NHC Outlook: